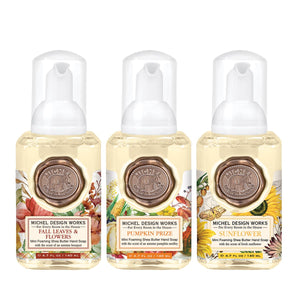 Michel Design Works
This mini foaming hand soap set is the perfect way to try several fragrances! The set features the new Fall Leaves & Flowers, Pumpkin Prize and popular Sunflower scents, and contains shea butter and aloe vera for gentle cleansing and moisturizing. Perfect for on the go or in the kitchen, bath, or powder room.
Volume: 4.7 fl. oz. / 140 ml each.
Approximate Size: 2 x 1.75 x 5.38" / 5.1 x 4.45 x 13.65 cm.