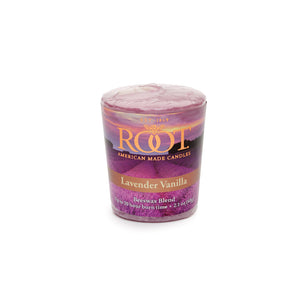 Root Candle's scented votives are made with Root's proprietary natural beeswax blend using fragrances containing essential oils and an all-natural fiber wick. Root's 20 Hour Beeswax Blend Votives produce a long-lasting 20 hour burn with a rich sensory experience. 
Lavender Vanilla Fragrance: Glistening lavender bursts with sparkling juicy citrus notes of mandarin and clementines, blended with precious hyacinth and satiny sweet pea, class jasmine petals & white peony.
Candle Care & Safety: Be sure to burn your 20 Hour Beeswax Blend Votive in the proper glass container for optimum burn. These 20 Hour Beeswax Blend Votives are made to liquefy. Always burn votives in an appropriate holder, and also on a protected, non-combustible, heat-resistant surface. Never burn free standing.