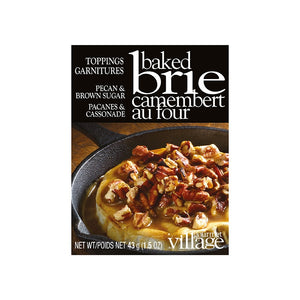 Gourmet Village
Whip up your favourite sweet baked brie appetizer or snack with this scrumptious Pecan and Brown Sugar topping that will satisfy any sweet tooth. Simply place prepared toppings on a round of Brie or Camembert in an oven proof dish, score the cheese with a sharp knife, bake in the oven, remove and serve with crusty artisan bread or your favourite crackers.
43 g (1.5 oz)
Ingredients: Pecans, Brown Sugar, Sea Salt, Spices.
Allergen Info: contains pecans.
Prepared in Canada